"Solo or together, I love the depth of flavor that Boom and Crave bring to the table."
Boom & Crave
Sed imperdiet arcu eu ex scelerisque bibendum.
The Boom and Crave duo brings depth and flavor to veggies, meats, pastas, and popcorn. Boom's Umami flavoring brings a little magic with just a dust, while Crave takes that cheesy nutritional yeast flavor to a whole new level. Use 'em solo or together for a delicious meal. 
Includes:
Boom
Mushrooms, Salt, Garlic, Onion, Tomato, Yeast Extract, Chili Peppers, Oil (Canola and Corn), Red Miso (Soybeans, Salt, Rice), Sugar, Natural Flavor. Contains 2% or Less: Modified Food Starch, Maltodextrin. Contains Soy
Crave
Salt, Nutritional Yeast (contains Niacin, Pyridoxine Hydrochloride, Thiamin Hydrochloride, Riboflavin, Folic Acid, Cyanocobalamin), Garlic, Natural Flavors, Onion, Maltodextrin, Red Bell Pepper, Turmeric, Spices. Contains 2% or Less: Vegetable Oil (Sunflower, Canola), Dextrose.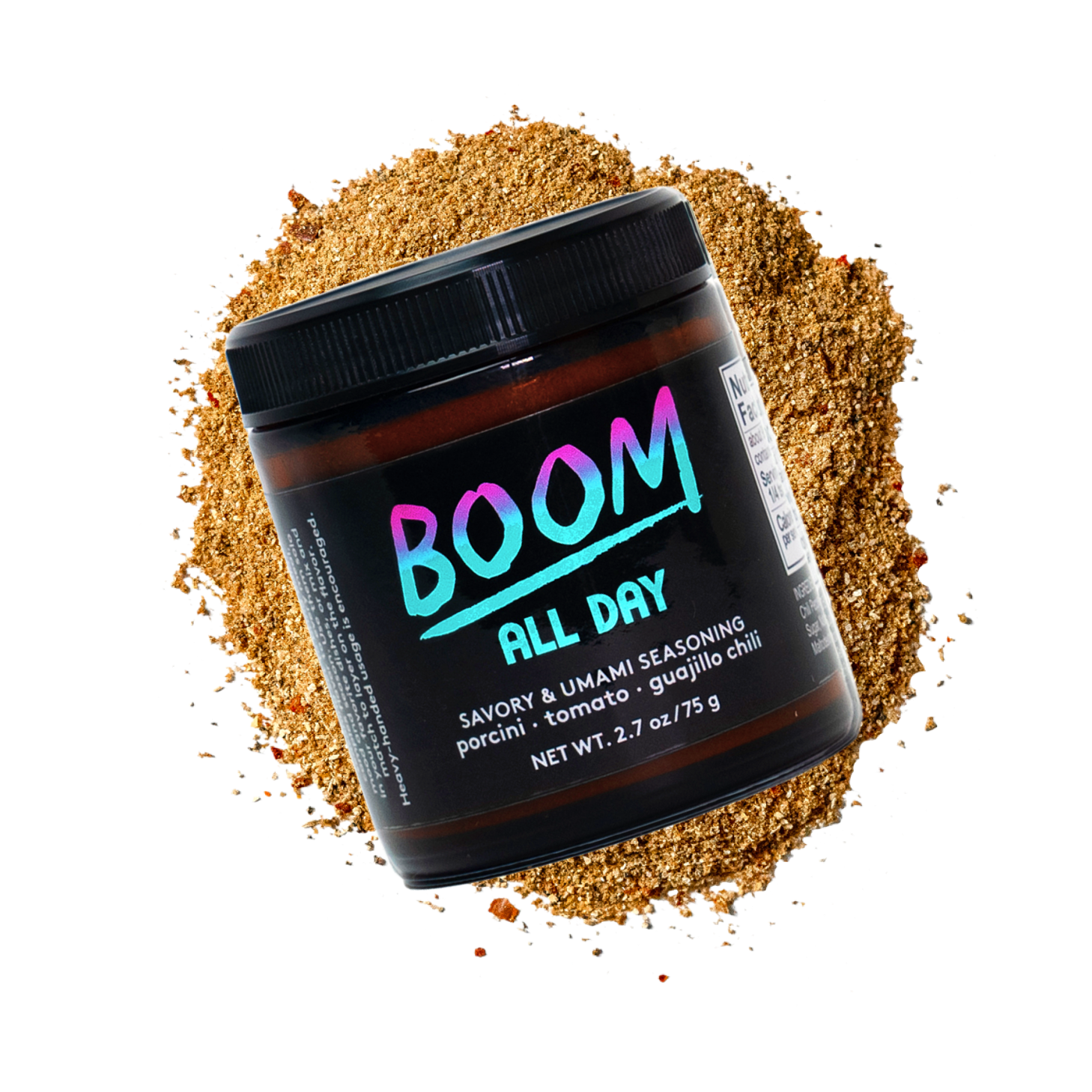 Boom
Intense, earthy flavor to add into omelettes, heaping bowls of pasta and anything else that needs an extra something-something.
Meet Boom
>>
Spicy in all the right ways
Tasty, anything-but-boring meals come together in no time.
All Day saves the day with ready-to-sprinkle, dump, or dust seasoning blends that level up any meal.